If you're an AWS partner, and you're interested in building a Quick Start, follow these steps. (Not a partner? Learn more about the AWS Partner Network.)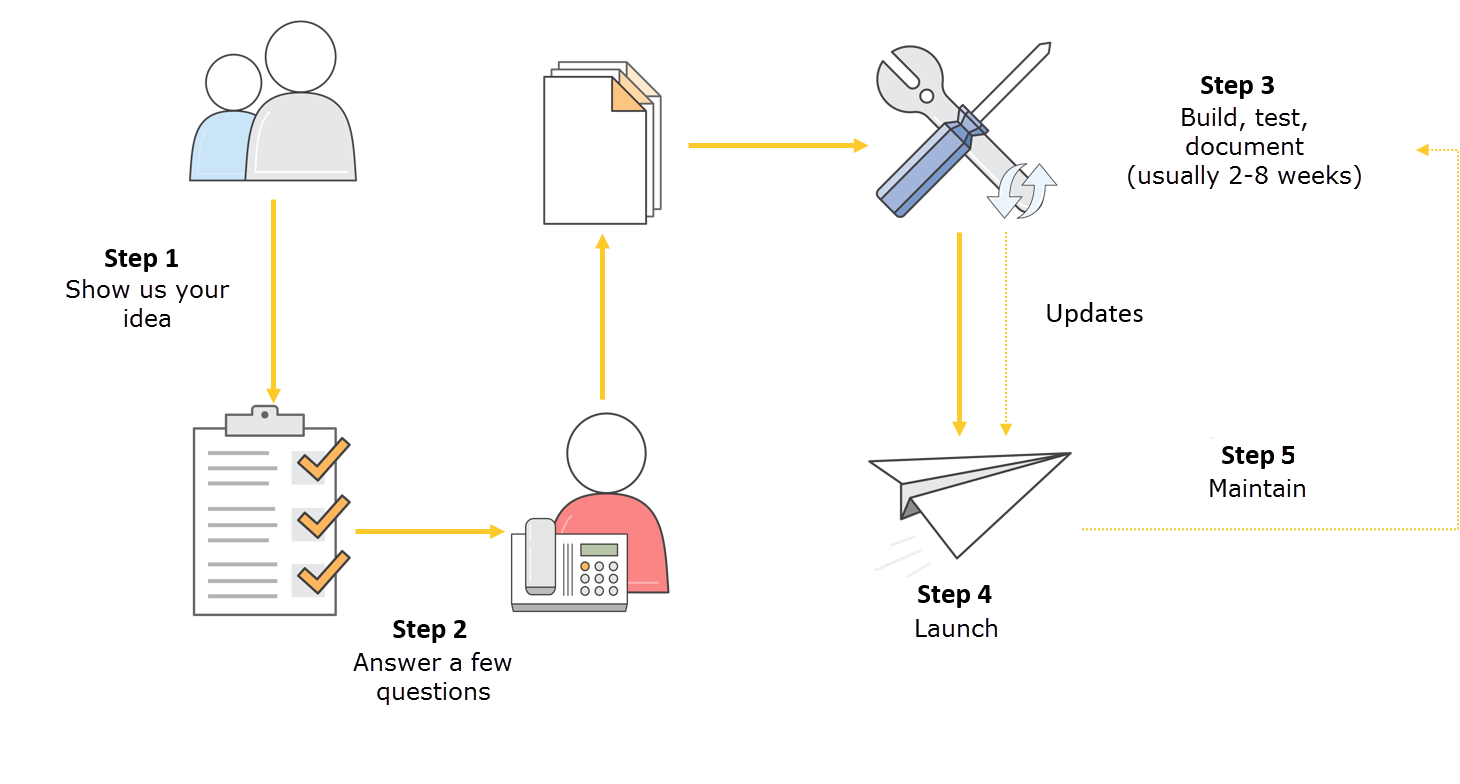 STEP 1: Show us your idea
Contact your AWS Partner Development Manager (PDM) or Partner Solutions Architect (PSA) to pitch your idea. Please provide specifications and an architecture diagram so we can determine if your proposal is a good fit for the Quick Start catalog.
STEP 2: Answer a few questions
If we approve your proposal, we'll schedule a kickoff meeting to gather more details:
Project name
Project description
GitHub user names (so we can give you permissions to the repository)
List of all software that your Quick Start installs, distributes, or uses. For each, specify the following:

Software package name
License requirements
License type: BYOL, trial, open-source, other (please specify)
How the software is installed (with the Quick Start or from another site)

Brief description of how the Quick Start code will function
Description of each AWS CloudFormation template included in the Quick Start:

Template name
What the template does

Contact names for:

Development-related questions
Launch and marketing–related questions
Post-release maintenance questions
License-related questions
When the project is approved, you can start coding.
STEP 3: Build, test, document
Follow the builder's guide to plan your architecture and build your AWS CloudFormation template. Follow the tester's guide to validate your templates, and provide us with content for your deployment guide.
Use the templates and examples from our quickstart-examples) repository:
STEP 4: Launch with us
When you complete your development and documentation tasks, the Quick Start team will publish the AWS CloudFormation templates and documentation.
The Quick Start team also coordinates promotional content and activities, including an announcement on the AWS website) and social media (see the FAQ for more information). We also ask that you promote the Quick Start on your website using blog posts, links, and social media. This will improve visibility and adoption of the Quick Start.
STEP 5: Maintain your Quick Start
Keep your Quick Start up-to-date. After launch:
Plan for proactive updates
Respond to user queries and fix bugs
Have a well-defined support path or contact person for issues
Obsess over your customers and respond quickly to feedback
When redeploying a Quick Start that was previously deployed in another environment, keep in mind that the Quick Start version may have changed (previous versions are retained on GitHub).
If you have any questions, contact us at quickstart@amazon.com.